Vítáme vás na první české wiki modpacků Tekkit a FTB!
Projekt české Tekkit-FTB wikipedie je naprosto amatérský a tudíž se předem omlouváme za případné chyby. Časem bychom chtěli dosáhnout databáze veškerých itemů níže uvedených módů, s českými popisky a českými návody jejich využití.
K vytvoření tohoto portálu nás vede snaha zpříjemnit hru neanglicky mluvícím hráčům Minecraftu, pro které je nalezení informací na webech vývojářů přímo nadlidský úkol.
Máte-li zájem o spolupráci, chcete-li nás seznámit se svým názorem, nebo něčím přispět, kontaktujte nás prosím pomocí
zde
uvedených kontaktů.
Vzhledem k tomu, že se nám jako hráčům přeložený Minecraft nezamlouvá, najdete na této wikipedii originální názvy všech předmětů a k tomu námi vybraný překlad názvu, abyste si přece jen mohli udělat obrázek o tom, jaká konkrétní věc se pod názvem skrývá. Doporučujeme při hraní používat originální názvy, neboť jen velmi malá část hráčské komunity používá kompletní český překlad.
Pro funkci vyhledávání na wiki používejte výhradně originální názvy!
Co je to Tekkit?

Tekkit je balíček technických módů, díky kterým můžete plně automatizovat výrobu různých itemů. Tyto módy přidávají velké množství strojů, ale i druhů stavebních jednotek, čímž umožňují stavět daleko realističtější budovy, které si vyberete.

Co je to Feed The Beast?

Feed the Beast neboli FTB je řada módů, která vás chytne a nepustí. Jakmile by vás totiž "normální" Tekkit přestal bavit, stačí si zvolit výzvu a garantujeme vám, že se nudit opravdu nebudete. Seznam modů najdete níže.
Jak hledat na naší Wikipedii?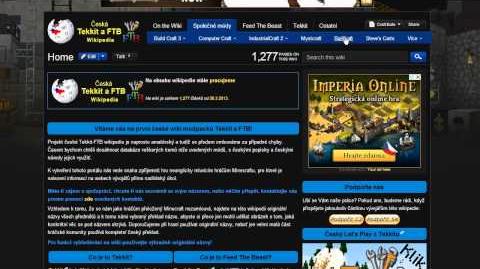 Tekkit a FTB Módy
Podpořte nás
Líbí se Vám naše práce? Pokud ano, budeme rádi, když přispějete jakoukoliv částkou vývojářům této wikipedie:


GameTeam.cz

Užitečné linky
Tekkit ke stažení Feed The Beast ke stažení
Nedávná aktivita
Community content is available under
CC-BY-SA
unless otherwise noted.